Creating a Portrait of a Golden Retriever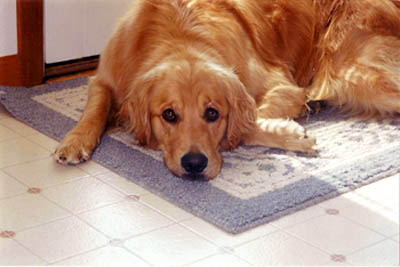 (Photo of Celis used as a reference for her portrait)
I was commissioned to draw a portrait in memory of this beautiful Golden Retriever named Celis. Her owners favorite pose was of her laying on the floor looking up at them with her beautiful deep brown eyes.
"She was always a bit of wild child. If you've ever read or seen the movie "Marley and Me", it could've been our story with Celis...uncontrollable on a leash, jumping on everyone and terrified of storms. Celis didn't have a mean bone in her body... she loved everyone and everyone loved her. She is deeply missed."
~Nicole B. (Celis' mom)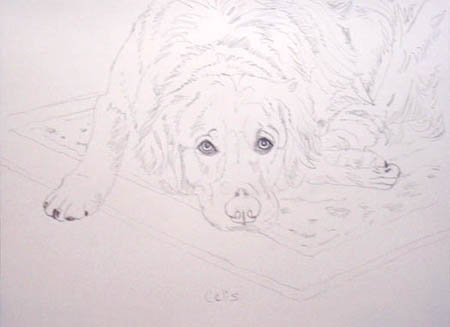 I start my portraits by drawing the outline of the face and body, and then filling in the basic shape and colors, as shown in the first example.

The images below show the progression of Celis's portrait. I generally start at the top

most part of the paper, and work my way down. I draw in thousands of tiny lines for the fur and several pencil layers of color, starting with the lightest and gradually darkening until I get the color I need to match the animal's fur.
Eye and ear details are added in as I work on that particular area. Each animal's individual expression and personality are seen in their eyes. The eyes are the windows to the soul, and I like to spend a lot of time working on this area capturing their own unique personality.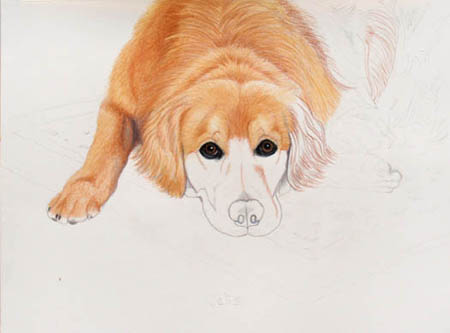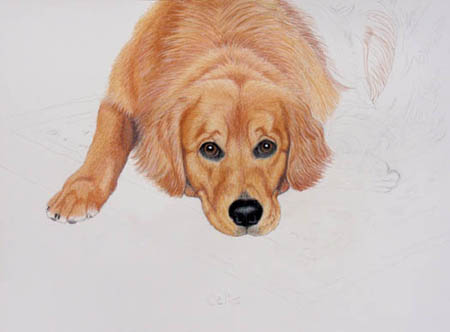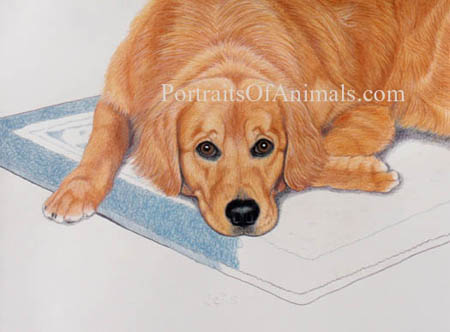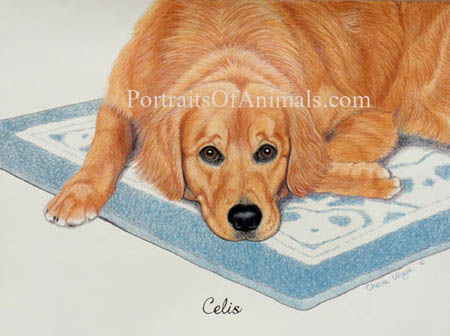 This is the finished portrait of Celis
"Words cannot express how I feel right now. This portrait is so much more than expected, and everything I'd hoped for. It's like I can look into her soul. You have captured the look in her eyes that I miss so much. Again, thank you so much. You have an amazing talent that has brought a sense of peace, I am sure, to many pet owners.  My family will cherish this always. "
~Nicole B.
(PortraitsOfAnimals.com is NOT written on the actual portrait)
Pet Portraits by Cherie Vergos - © Unauthorized duplication of text, photos, artwork and/or files are in violation of applicable laws. All rights are reserved.