Pet Portraits by Cherie Vergos

Cat Portrait Gallery
Hand-Drawn Portraits of Well-Loved Cats
Animal artist Cherie Vergos offers you vibrant, realistic portraits hand-drawn just for you, from your favorite photo!

Page 1 Page 2 Page 3 Page 4 Page 5 Page 6
Page 7 Page 8 Page 9 Page 10 Page 11 Page 12
Page 13 Page 14 Page 15 Page 16
Below are examples of portraits I have drawn for my clients from their photos...
Email: CheriesPortraits@aol.com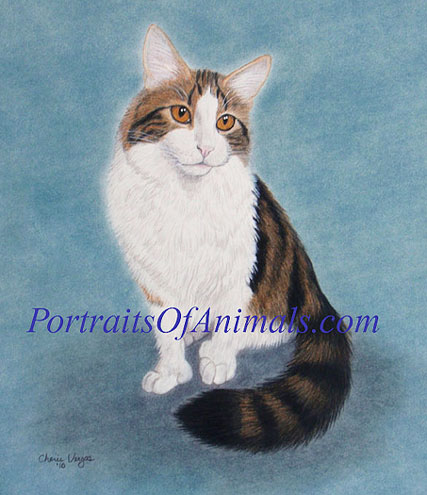 7 Cats and a Dog Portrait
16x20
(Lil Bit, Badness, Sugar, Pumpkin, Junior, Happy
Sylvester, Rocky and Uggie)
Go to PAGE 2 of the Cat Gallery----->

Click here to find out how to get your cat's portrait drawn!

"PortraitsOfAnimals.com" is NOT written on the actual portrait.
Please keep in mind that these images are scanned for this website and
therefore, the quality as shown does not represent the actual portrait.

Pet Portraits by Cherie Vergos - ©

. Unauthorized duplication of text, photos, artwork and/or files are in violation of applicable laws. All rights are reserved.