Pet Portraits by Cherie

Cat Portrait Gallery 14
Hand-Drawn Portraits of Siamese Cat, Seal Point Mix & Domestic Shorthairs
Page 1 Page 2 Page 3 Page 4 Page 5 Page 6
Page 7 Page 8 Page 9 Page 10 Page 11 Page 12
Page 13 Page 14 Page 15 Page 16
Below are examples of portraits I have drawn
Thanks for your patience while photos load......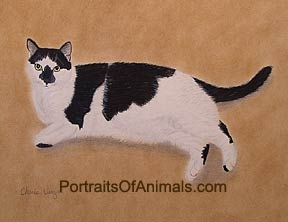 Domestic Shorthair Cat Portrait
11"x14"
(Stanley


Seal Point Mix Portrait
11"x14"&nbsp
(Maxie)

White & Siamese Cat Portrait
11"x14"
(Angel & Gizmo)
Go to PAGE 15 of the Cat Gallery--->
"PortraitsOfAnimals.com" is NOT written on the actual portrait.
Please keep in mind that these images are scanned for this website and
therefore, the quality as shown does not represent the actual portrait.
Pet Portraits by Cherie Vergos - © Unauthorized duplication of text, photos, artwork and/or files are in violation of applicable laws. All rights are reserved.