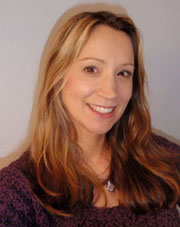 Pet Portraits by Cherie
Realistic pet portrait drawings of dogs, cats, parrots, horses and other exotic pets drawn from your photo!
PortraitsOfAnimals.com
Makes a GREAT gift!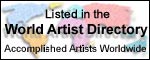 Proud Member of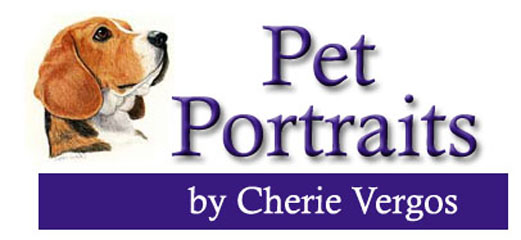 Hand-drawn Pet Portraits from your photo
I can draw your dog, cat, horse or bird from your photo-click here!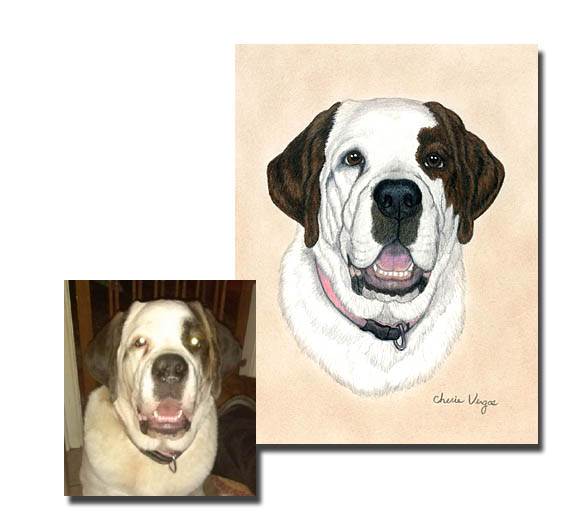 My pet portraits are hand-drawn from your favorite photo of your pet!
They also make a great gift for anyone who loves their pet
How I draw a custom Pet Portrait from a photo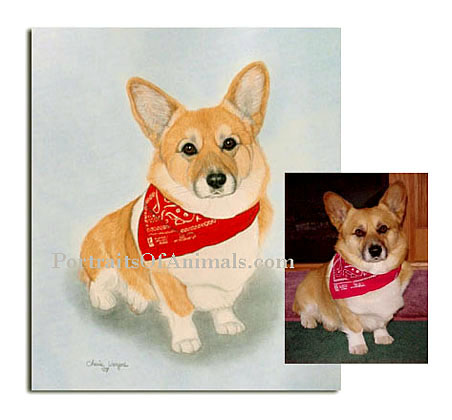 "Cherie has done 3 absolutely wonderful portraits for me. Just today, I received the 3rd one, it is my recently deceased little Welsh Corgi boy, Simon. As I viewed the scans Cherie sent me of her progress, I was simply in awe of her talent. But today, when I unrolled the portrait and saw it, it truly took my breath away! I could not be happier with this portrait, it is more than I could have hoped for. An e-mail or testimonial wasn't enough, I had to call Cherie and tell her how wonderful it is! I swear, I can look at Simon's face and it is almost as if I am gazing into his eyes. Cherie, YOU ROCK!!!! Thank you SO much!!!" Charlene- Illinios
Email: CheriesPortraits@aol.com

A Pet Portrait by Cherie captures the beauty, sweetness, and personality of your special companion in lifelike detail—the way only a true work of art can! Now, you can have a true-to-life portrait drawn of your beloved best friend, ensuring that you always remember that favorite moment or classic animal expression forever!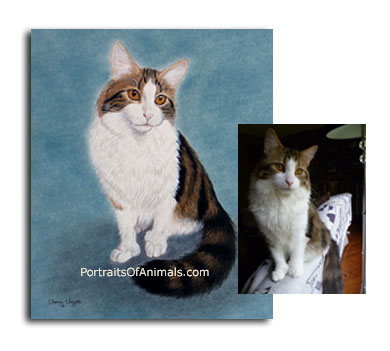 "Cherie's drawing of Cullen is fantastic!!! She captured his beautiful eyes and mitts. Cullen is a "mitten kitten".
I would highly recommend her to anyone. Cherie is very patient and knows how everyone wants the perfect drawing of their cherished pet". Patricia- Illinois
Your complete satisfaction is very important to me, and that is why all of my portraits are 100% guaranteed! You will even receive a scan of your portrait, for your approval, before I mail it out to you.
"Words cannot describe how grateful I am for Cherie's talent. Cherie blessed my family and I with two amazing pet portraits of my labs Dakota and Jake. Her artistry and love for what she does is undeniable. Dakota and Jake were a huge part of our family and I am so glad that through their portraits they will continue to be for years to come. I could not ask for a better way to memorialize our boys. Cherie is a joy to work with and her talent is a true gift!" - Diane - Media, PA
"Working with Cherie was such an enjoyable experience. The portrait of my dog, Sport is so awesome. Cherie really captured his essence and the portrait itself looks like it was drawn with such love. If you are looking for a special gift for someone, or want a lasting tribute to your animal, I definitely recommend Pet Portraits by Cherie.'' Sharon - Oakley, California
"I hired Cherie to draw a portrait of my sister's beloved black lab, Bud, who was 15 yrs old when he died. The finished portrait was fabulous. Cherie managed to capture Bud's true spirit and the ever loyal and trusting look in his eyes. I'm giving this portrait to my sister as a gift. It was an absolute pleasure to work with Cherie. She is a true professional with a talent for capturing the spirit of your pet. If you're looking for a wonderful gift or a portrait of your pet just for yourself, I can without hesitation, highly recommend Cherie." Donna - PA
You consider your dog, cat, bird, horse, or other pet part of the family. They give you the unconditional love that only an animal can give. They're loyal, loving, forgiving, sensitive, and they're always there when you need a friend. The memories you share with a pet are among the most precious you will ever make.
GIFT CERTIFICATES are always available if you don't have a photo and want to give a portrait as a gift to someone special!
A portrait is a wonderful keepsake of your pet for you to cherish forever. They also make a thoughtful, unique gift for anyone who loves their pet as much as you do.
Gift Certificates are available!



Email: CheriesPortraits@aol.com

Cherie Vergos · Clifton Park, NY 12065
Pet Portraits by Cherie Vergos © Unauthorized duplication of text, photos, artwork and/or files are in violation of applicable laws. All rights are reserved.
Search Engine Submission - AddMe