Pet Portraits by Cherie

Parrot Links
Would you like to exchange links or banners with me?
Grab my banner here:
Link to Pet Portraits by Cherie

View my custom Parrot Portraits here
Beakapoo Bird Toys - Fantastic safe affordable toys for all size birds.
The Best Selection Of Bird Cages - All kinds of bird cages , bird carriers , bird stands, bird toys, bird perches and birds food - by BirdsComfort .com
Bird Cages, Supplies and Toys - Cagestore offers large bird cages, decorative, stainless steel bird cage supplies and bird toys. Cagestore carries Prevue ferret cages, rabbit cages and supplies, chinchilla and rat cages
BirdBytes - Feathered Friends gather at Bird Bytes! Share your parrot stories, and sign up for our Free Newsletter
Diane's Bird Toys- We take pride in making Home Made Bird Toys that are Colorful, Unique and Affordable for all your birds. All of our toys are made with the finest materials that are bird safe.
Feather Picking - Lots of info on feather picking
For Your Bird - Pet Bird related items including food, toys, cages and accessories.
Hello, Baby! Great Parrot Photos & More!! - Lots of great photos of parrots and more!
Lair Of Dragons Bird Rescue & Sanctuary - We are a Pennsylvania based exotic bird rescue & sanctuary dedicated to preserving the welfare of companion parrots. We provide forever homes for homeless, neglected and abused parrots.
Parrot Pages - Home for avian info with over 2100 links for avian businesses, breeders, clubs, and more
Parrot and bird cages
SuperParrots.com is your source for everything you need to care for, train and entertain your parrot.
Parrot & Pet Portraits by Cherie - Realistic portraits drawn from your photo by animal artist Cherie Vergos. Specializing in portraits of parrots, dogs, cats, horses and exotics.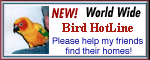 Pet Portraits by Cherie Vergos - © Unauthorized duplication of text, photos, artwork
and/or files are in violation of applicable laws.
All rights are reserved.