Pet Portraits by Cherie
Realistic pet portrait drawings of dogs, cats, parrots, horses and other exotic pets
PortraitsOfAnimals.com

Makes a GREAT gift!

In these Gallery Pages you'll see portraits of:

Airedale 38
Akita 39
Alaskan Malamute

2, 22, 30
Australian Shepherd 29
Australian Cattle Dog 33,34 Basset Hound 2,3
Beagle 1,23,35
Bernese Mountain Dog 21
Bichon Frise 22
Blue Tick Coonhound 35
Brittany Spaniel 28
Border Collie 9,34
Border Terrier 20
Boston Terrier 32
Boxer 5,6,26,30
Bulldog 4,10,12,18
Cairn Terrier 20
Chihuahua 17,19,27,35,37,38
Chinese Shar Pei 13
Chow Chow 27 32
Cocker Spaniel 1,5,18,23,39
Corgi 3,7,12,15,23
Collie 5,32
Coonhound 35
Dachshund 16,23
Dalmatian 19
Doberman 24,30
Eurasier 32,33
Fox Terrier 28
German Shepherd 1,15,20,38
German Shorthaired Pointer 11
Golden Retriever 8,24,29,36
Great Dane 9,14,22
Greyhound 39
Havanese 21
Jack Russell Terrier 3 31
Keeshond 14
Labrador Retrievers (Labs) 2,7,13,14,15,16,24,25,26,31,37
Lhasa Apso 17,27,36
Maltese 8,18
Mastiff 9
Newfoundland 19
Norwich Terrier 29
Papillon 11
Pekingese 19,29
Pit Bull 5 ,36
Pomeranian 8
Poodle 4,11,25
Pug 4,14,23,30
Rat Terrier 28,31
Rhodesian Ridgeback 18
Rottweiler 6,7,15,20,33
Samoyed 28
Schnauzer 26,39,
Scottish Terrier 26
Shar Pei 13
Sheltie 2,17,37
Shiba Inu 34
Shih Tzu 1a, 25
Siberian Husky 21
Springer Spaniel 19,31
St Bernard 38
Viszla 7,16
Wheaten Terrier 18
Whippet 5
Wire Haired Pointing Griffon 13
Yorkshire Terrier 11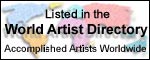 Proud Member of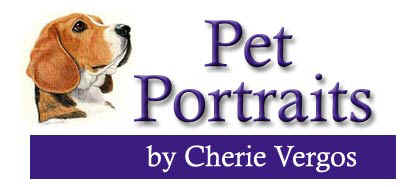 Below is an example of a portrait I drew for a client who wanted her 9 dogs in one portrait: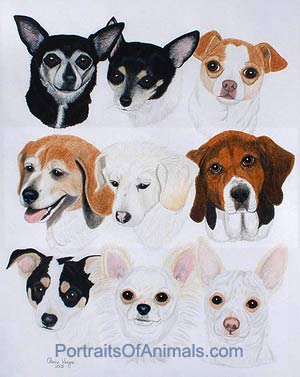 Portrait of 9 dogs:
16"x20" Peppy, Suzie, Buttons & Bows, Muffin, Lil Lucky, Big Lucky, Sprinkles, Lil Bit and Lil Buttons & Bows
Go to PAGE 36 of the Dog Gallery--->
"PortraitsOfAnimals.com" is NOT written on the actual portrait.
Please keep in mind that these images are scanned for this website and
therefore, the quality as shown does not represent the actual portrait.
Click here to get more hits to YOUR Pet Site !
Pet Portraits by Cherie Vergos - © Unauthorized duplication of text, photos, artwork and/or files are in violation of applicable laws. All rights are reserved