Pet Portraits by Cherie Vergos

Cat Links
Would you like to exchange links or banners with me?
Grab my banner here:
Link to Pet Portraits by Cherie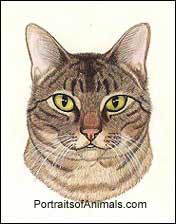 Hand-drawn Portraits of your Cat! Click here to view my Cat Portrait Gallery
Are you a big cat lover? Get tons of information about affordable
pet insurance plans at this pet insurance site today
Amazing Russian Siberian Cats and Kittens of Svetdanhaus

- Siberian cat breeders and importers of registered Champion Russian Siberian cats and kittens. Beautiful, hypo-allergenic, trainable kittens winning the hearts of pet lovers worldwide
Bengal Cat Breeder Foothill Felines plus Cat Toys, Furniture, Beds and Accessories from HDW Enterprises
Best Cat Art- All that is best in cat art. Cat gifts for yourself or your cat loving friends. Cat art prints, cat calendars, cat books and cat figurines.
Cat and Pet Portraits by Cherie Vergos - Realistic pet portraits drawn from your photo by animal artist Cherie Vergos
Cat Furniture - Discount cat tree scratching furniture. We offer the ultimate in Cat tree furniture. Cheap inexpensive and cozy cat condos, gyms, climbing trees, beds, and scratching posts.

Cat Health Supplies -PetWellBeing.com provides cat health supplies to keep your pets happy and active

Cat Links - Vote for my site! - Find just about anything cat related here. Click "Home" to get the index, or use their "Search"

Catsup - A website for cats and people who like them

Cat Furniture, Cat Trees and Cat Condos - Armarkat Cat furniture at heavily discounted prices. Armarkat cat trees, quality feline lifestyle accessories

Cats rule at I-Love-Cats.com. Get tons of free feline stuff - cat breed information, cat names, cat pictures, cat supplies and so much more.

Cattery Van Scarlettini - Siamese & Oriental Shorthair Cats

CozyCatFurniture.com – Cat Condo Furniture , Cat Perch, Cat Climber

At our site you will find cat perch, cat climber or cat condo furniture which are designed to allow the cats to follow their natural instincts for scratching
Katsation.com - Here you will find beautiful CFA Himalayan, Persian, Exotic, Maine Coon and Ragdoll Cats and Kittens, pedigrees, and kittens for sale. We also feature articles, a chat room, message board, silly kitty stories
Meowhoo.com - Your beeline for everything feline
Moggies - Online cat guide, free cat help files, free programs and screensavers, lots more information for cat lovers
My Healthy Cat – Cat health and cat supplies information for the longtime cat lover and the new cat owner. Tips to keep your cat or kitten healthy and happy.
Natural Tree Furniture - Environmentally responsible designs, specializing in cat trees.
Paws on Floors- Paws on floors: Information about cats and articles of interest for the humans they own. Including a cat name generator
Pelaqita Persians - Pedigreed Persian Cat Breeder - Persian Cats and Kittens for sale.
The Cat Site - The cat web site for cat lovers. Information about cats, photos, links and more